2020 New ENGINE Pro Upgrade Version 750W 20 inch Fat Tire Electric Bicycle Mountain Beach Snow Bike for Adults, Aluminum Electric Scooter 8 Speed Gear E-Bike with Larger capacity Removable 48V16A Lithium Battery
ENGINE Pro 2022 Upgrade model is a slick, stylish fat tire electric mountain bike. Compared with the old model, the 2022 engine pro has expanded the battery capacity and the power of the motor. The battery has been upgraded from the original 12.8Ah to 16Ah, and the maximum power of the motor has been upgraded to 750W.Folding the bike only in 10 seconds. With a 750W high-torque motor and up to 120km (75miles) battery range, it's ready to handle any mission.
---
FASTER AND FARTHER
2022 Upgrade Model ENGINE PRO electric bike is styled in 6061 aluminum alloy frame, mechanical lock front suspension fork, and adjustable seat and handlebar, which matches different height and riding style for a great riding experience. With the lightweight and efficient design, the aluminum alloy 20-inch wheel suited to both urban and trail environments in good road conditions.
POWERFUL MOTOR AND BATTERY
With a 48V 750W brushless gear motor, it can easily assist you to travel at 40-45KM/ H. With a 48V/16AH lithium removable battery, the mileage can be more than 60KM, and you can charge the battery in the frame or alone when you take it out.
PERFECT BRAKES AND SPEED
With front and rear disc brakes and 8-Speed-SHIMANO Transmission System, you can choose any speed to enjoy faster riding time or experience a relaxing holiday according to your needs. Perfect brakes fully protect your safety.
HUMANIZATION DESIGN
Soft leather seat and fat tires make you feel comfortable on your riding trips. A foldable design is convenient for your camping or picking up in your car. Headlight and taillight make you no worries about riding at night.
---
E.pas
---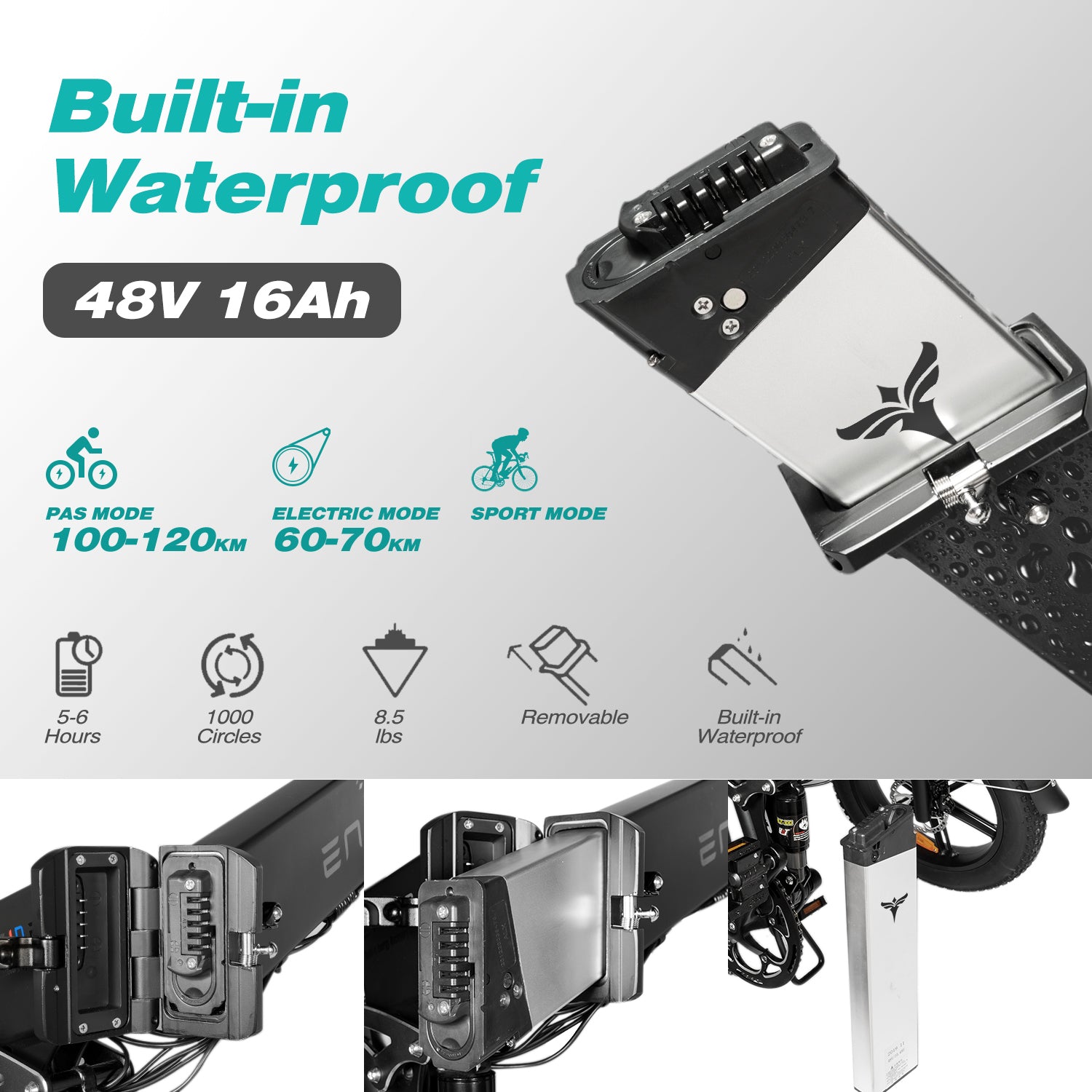 Q: How does E·pas work?
A: Ride faster, over 15 mph at PAS 0/1 for longer thanks to the energy regeneration tech that automatically charges the battery for 20% power as you ride. The intelligent sensor engages the E.pas system to regenerate 60% energy when you're going downhill without energy consumption.
---
PARTS
---

Alloy & Hydraulic Suspension
Full aluminum alloy Coil Suspension & Hydraulic Lockout Travel: 100 mm
Spring Loaded Swingarm Rear Suspension. Travel: 20 mm
Suspension absorbers effectively filter out vibrations during bumpy road sections and improve riding comfort.

Alloy Rack & Iron Fenders
Full aluminum alloy solid rack
Functional rear rack included Front and Rear fenders
Streamlined design and Iron Fenders

Rear Light & Headlight with Horn
Head Light: LED Headlamp with Horn
Rear Light: Integrated LED Light
Simple and commonly used style

Front & Rear Hydraulic Disc Brakes
Aluminum Alloy Hydraulic Disc Brakes
Black iron 25 tooth aluminum alloy cover
Chain: 1/2"*3/32"*124L, silver-gray

Fur Handlebar & Soft Saddle
Twist throttle is easy to control
Soft saddle ensures safer riding
Providing rider enough space to move around
Prevent slipping in an aggressive stance

Thumb Shifter with 8 Speeds
Shimano 8-speed freewheel with DERAILLEUR GUARD
Aluminum alloy cranks and sprocket
Top Speed: up to 28mph/ 45kph
---
SPECIFICATIONS
---
Maximum Speed: 28mph or 45 km/h
Maximum Mileage: 41 miles or 65 km (electric mode); 75 miles or 120 km (assistant mode)
Frame Material: Aluminum Alloy
Motor: 750W high-speed brushless gear motors
Display: Advanced Colorful LCD Display with Cruise Control
Derailleur: Shimano Gear 8 speeds
Riding Model: Booster riding, Pure electric riding, Pure human riding
Front Fork: Coil Suspension, Hydraulic Lockout
Brakes: Hydraulic Disc Brakes
Head Light: LED Headlamp with Horn
Tail Light: Integrated LED Light
Tires: Anti-skid Cross-country Tires - 20" x 4.0"
Vehicle Weight: 31.6 kg /69.5 lbs
Load Capacity: 150 kg /330 lbs
Battery: 48V 16Ah Lithium-ion, LG Cells
Charging Time: About 6 hours
Package Size: 100*45*80 CM
Folding Size: 76*35*66 CM
---
What's In Box?
---
Handlebars shipped installed on the bike
Note: Our bikes are 95% pre-assembled, you only need to install the pedals.
---
PAYPAL PURCHASE PROTECTION
---
Paypal Purchase Protection covers all eligible purchases where PayPal is used, as well as payments made through our website. We Accept Visa / Master Card / American Express / Discover Card & PayPal using a secure PayPal payment gateway!
You can pay with a Debit or Credit Card via the Paypal payment gateway. PayPal account optional but not required!
---
12 MONTHS WARRANTY
---
Wherever you buy our products, whether in the US or from any OKIDAS outlet or Distributor's store, you have 12 months to request repairs if any vehicle turns out to be faulty or not as advertised. The 12 months warranty period starts from the date your product is delivered and you must inform the seller of any issue encountered with one of our products within 10 days of discovering the issue.
Happy choose this bike , did a long time research and take this one finally. Comes with everything I'm looking for: dual suspension, Shimano 8 speed, hydraulic break, 750W motor and even comes with re-gen function. 4.0" fat tire and dual suspension filter out most vibrations from ground. The handle bar design is very comfortable. Some small things need to be improve, first is the wiring is blocking the key lock you need to push it aside to let the key in. One more thing is some small scratches over the frame, fork and saddle when it arrived but not a big deal though. Over all is really good one. It's really heavy and sturdy bike. A suggestion to the seller is try shooting more bike maintenance video will attract more hesitating buyer.

Absolutely get ready to fall in love! This is the best electric mountain bike, cruiser, dirt bike, scooter, motorcycle, electric bike or regular bike all in one! The regeneration of the battery is amazing! Nothing needs to be changed. Complete excellence and legal in Florida! I keep searching and nothing still compares. You will not regret this!

So far I'm loving this bike! It was super easy to finish assembling by just attaching the handlebar assembly and pedals. I had a bit of rattling going on because of the fenders being squeezed tightly through the frame, I simply stuck two little pieces of rubber in there and the tingy sound went away. As far as being able to boogy around town this bike is AWESOME! I've had it up to 33.3 mph. I love how you can trickle charge the battery while cruising downhill over 12mph in 1 or 0 pas mode as well. I invested in an extra battery just in case, but I don't think you have to because they last a long time! I almost always use throttle only and have never had the battery under 50 percent. This bike is very heavy and can be awkward to fold up, but once you have the handle bars off and the frame folded it will fit in the back of a mini Cooper.

A great, zippy, and battery efficient e-bike!

I've had this bike for about a week now, and have gone on two rides - one of which was for over 22 miles. On the longer 22 mile ride, it only used about 50% of the battery. So far, I am loving this bike. I have only two complaints, really. One, the brakes are very cheap quality and came out of the box rubbing, and making noise (squeaking). This seems to have been solved or now by using some WD-40 on the brake disks. My only other complaint is the weight of the bike in general. It's heavy at over 70 lbs with the battery in. This makes it difficult to load into the trunk of a car, or anywhere that you're planning on storing it in a folded fashion. If you're planning on putting this on an elevated bike rack, forget it, as it will be too heavy for most people to lift it, particularly older folks. Other than that, this is a grade A ebike, and I am very pleased with my purchase so far. Customer support was also a bonus. I had a question about shipping which was answered via email in a matter of a few hours. They were very responsive and forthcoming. Highly recommended!

Man I love this bike! I have searching for a while for an e-bike like this one, hydraulic brakes, dual suspensions, anti-puncture fat tires to name a few. Go get one and stop thinking about it you won¡¯t regret it I assure you. If have any questions e-mail them, they will get back to you sooner than you think.

Bike is essentially as advertised, but they provide very little specific information. The manual is pretty useless. I figured out that the energy recovery system only works when in pedalec modes 0 or 1 and going 11 mph and faster - typically downhill. It's only on coasting - braking generates no energy. The display gives you a watt rating for both energy being expended or energy being recovered which is handy. I show it peaks at 850 watts up hill, full throttle. On a long downhill grade, going 12-13 mph, I was recovering 117 watts. Build quality is outstanding - the thing is a tank, which also means it's heavy - over 70 lbs. I doubt you could break it structurally. Ride is good/smooth and center of gravity is very low. Very comfortable cruising or commuting. I'm sure offroad trails would be fine, but this is not a BMX bike, so keep that in mind. Display is bright and gives the necessary info. Cruise control works by holding throttle trigger in one position for 8 seconds and disengages if you pedal or tap brakes.